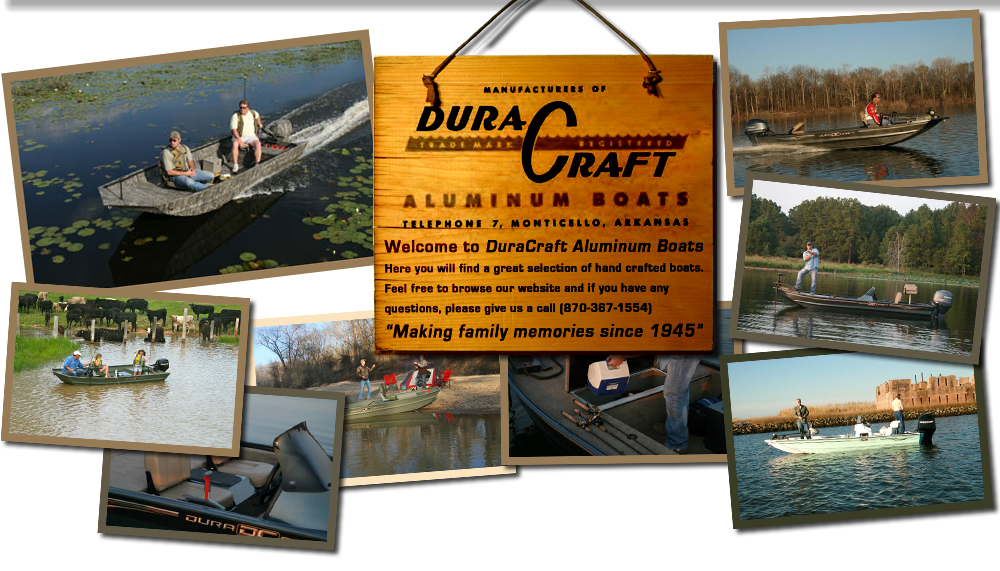 Welcome To DuraCraft Boats
At DuraCraft Boats, Inc., we build premium, all-welded and riveted aluminum hunting and fishing boats. DuraCraft is built by Team Ward Manufacturing, the home of War Eagle Boats, in Monticello, Arkansas. Our hunting and fishing boats are meticulously hand-built featuring the patented T-Lock Cap Rail System, making your boat accessories easily interchangeable.
DuraCraft Boats provides many Paint and Vinyl options for your hunting or fishing boats, including Avery Marshgrass and Avery Buckbrush camo aluminum fishing boats, along with many other color options. Request a DuraCraft Catalog today to receive information on the newest and most versatile American Built Hunting and Fishing Boats.
The DuraCraft Fisherman Series is a classic American boat first manufactured by Bill and Chick Ward. Old wooden boats were heavy to load, so Bill and Chick came up with the idea for a lighter weight boat. In 1945, at the end of World War II, they were able to purchase surplus aluminum from the government and the aluminum boat industry was born with the first flat bottom aluminum boat. Kim Ward, son of Chick Ward, continued the family tradition by manufacturing and expanding the DuraCraft line until 1983.
Quality has always been synonymous with DuraCraft. Now over 65 years later, it has returned to where quality started in Monticello, Arkansas to the original family; Mike & John Ward, sons of Kim Ward.
Thank you for your interest and taking time to look through our line of DuraCraft Boats. If you have any questions, please give us a call and get your DuraCraft Catalog today.